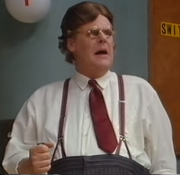 Mr. Seymoure Fish was one of the most memorable characters and main antagonist of Lift Off. Mr. Fish was the caretaker of the small apartment building where the characters lived. He was often seen yelling at the children from behind his desk in the apartment foyer when they came in from the outside. He was played by Mark Mitchell.
Ad blocker interference detected!
Wikia is a free-to-use site that makes money from advertising. We have a modified experience for viewers using ad blockers

Wikia is not accessible if you've made further modifications. Remove the custom ad blocker rule(s) and the page will load as expected.